-
How the Drug War Exacerbates the Global HIV Pandemic
June 27, 2012 |
LIKE THIS ARTICLE ?
Join our mailing list:
Sign up to stay up to date on the latest Drugs headlines via email.
On Tuesday, as the UN's global drug prohibition bureaucracy marked its annual International Day Against Drug Abuse and Illicit Trafficking and UN Office on Drugs and Crime head Yuri Fedotov blamed hard drug use for "bringing misery to thousands of people, insecurity, and the spread of HIV," a group of leading international voices offered a starkly contrasting perspective, arguing instead that is the failures and consequences of global drug prohibition that are driving the spread of HIV/AIDS and other blood-borne diseases among drug users.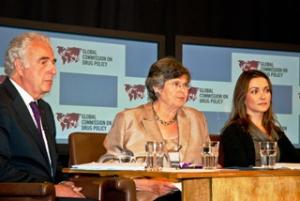 Commission members Michel Kazatchkine, Ruth Dreifuss, and Ilana Szabo at London press conference
Those voices, gathered together as the
Global Commission on Drug Policy
, include six former presidents from around the world, public health experts, and socially conscious entrepreneurs such as Sir Richard Branson. They took the opportunity of global anti-drug day to issue a report,
The War on Drugs and HIV/AIDS: How the Criminalization of Drug Use Fuels the Global Pandemic
that directly condemns the drug war as a failure and calls for immediate, fundamental reforms of the global drug prohibition regime to slow the spread of HIV and reduce other drug war harms.
There are an estimated 33 million people worldwide infected with HIV, and outside sub-Saharan Africa, injection drug use accounts for one-third of new infections. The situation is particularly bad in Russia and other countries in the former Soviet Union and East Bloc that continue to take harsh drug war approaches to drug use despite the evidence before their own eyes. In Russia, nearly one in a hundred adults is now infected with HIV.
But it's not just the Russian sphere where policymakers ignore the evidence. The report also cites China, Thailand, and the US, where Congress recently reinstated a longstanding ban on the use of federal funds for syringe exchange programs. In countries that have adopted evidence-based HIV prevention programs, such as Switzerland and Portugal, injection drug use-related HIV infections have nearly been eliminated.
According to the report, drug prohibition and the criminalization of drug users spurs the spread of HIV through the following means:
Fear of arrest drives persons who use drugs underground, away from HIV testing and HIV prevention services and into high-risk environments.
Restrictions on provision of sterile syringes to drug users result in increased syringe sharing.
Prohibitions or restrictions on opioid substitution therapy and other evidence-based treatment result in untreated addiction and avoidable HIV risk behavior.
Deficient conditions and lack of HIV prevention measures in prison lead to HIV outbreaks among incarcerated drug users.
Disruptions of HIV antiretroviral therapy result in elevated HIV viral load and subsequent HIV transmission and increased antiretroviral resistance.
Limited public funds are wasted on harmful and ineffective drug law enforcement efforts instead of being invested in proven HIV prevention strategies.
"The Global Commission is calling on all entities to acknowledge and address the causal links between the war on drugs' criminalization of drug use and drug users and the spread of HIV/AIDS," commission member Michel Kazatchkine, the former executive director of the Global Fund to Fight AIDS, Tuberculosis, and Malaria told a London press conference. "For people who inject drugs and their sex partners, the AIDS epidemic continues to be a public health emergency."
"It is so clear now that there is a relation between repressive drug policies and the spread of HIV/AIDS," said former Colombian President Cesar Gaviria. "If we don't get people into the health system without fear, it will be very difficult to do treatment and prevention."
LIKED THIS ARTICLE? JOIN OUR EMAIL LIST
Stay up to date with the latest Drugs headlines via email